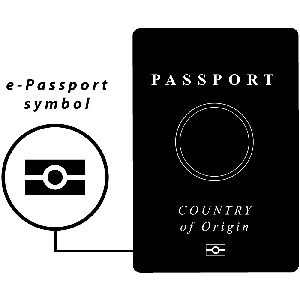 Both Los Angeles and Palm Springs are popular destinations for visitors from all over the world.  Some visitors, from certain trusted countries, are allowed to visit the USA without a B-1/B-2 Visitor Visa.  At both our Pasadena and Palm Springs offices, we've gotten quite a few calls about a change that went into effect today.
Beginning 1 April 2016, citizens from Visa Waiver Program countries who wish to visit the USA without a visa must travel using an e-passport, a passport issued by the country of nationality that meets certain security standards.  An e-passport still looks like what you would expect a passport to be.  However, an e-passport is machine readable and has an RFID chip embedded into it, with digital information about the passport holder.  There are many fraud-resistent features built into these passports, such as images that change color and symbols that show up only under UV light.  To know if a passport is an e-passport, look on the front or back cover for the symbol shown on the graphic at the top of this little blog.
If you are a citizen of a Visa Waiver-eligible country, but you do not have an e-passport, you must contact the US Embassy in your country to obtain a B-1/B-2 visitor visa.  Border guards may deny you entry if you do not have the proper passport and could send you back on the next plane.  Alternatively, you should contact the passport authority in your country to obtain a new passport.