Let's encourage more naturalization!
The people that make up the United States have been compared to a melting pot, a salad bowl, and a quilt.  Whichever analogy you prefer, the immigration attorneys at Fong & Aquino have always believed that immigrants are a vital part of this society.  Immigrants may be found at all levels of the socio-economic ladder and within each of the fifty states.
We believe that immigrants should fully participate as part of the voting electorate and the body politic.  Immigrants can bring their wide breadth of experiences to bear while serving on juries of their peers.  And immigrants who have lived in this country for many years should participate in determining the direction of the country through the ballot box.  And as these privileges are only available to United States citizens, the first step to making this happen is to encourage the naturalization of as many eligible immigrants as possible.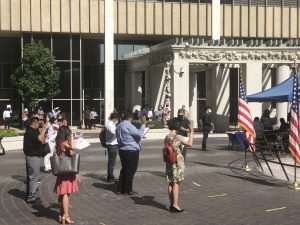 The lawyers at Fong & Aquino have historically provided free services in this endeavor.  We have volunteered at immigration clinics.  We have partnered with local organizations to provide seminars on naturalization.  We want to do our part to encourage as many immigrants to naturalize and become full members of the American community.  From here on out, we pledge that for straightforward applications, our legal fees to prepare the application and to have an attorney attend the interview in the Los Angeles metropolitan area will  be significantly reduced.  (While we can also assist many folks who are farther away, we will need to assess costs for travel and accommodations.)
There are a number of different requirements that should be reviewed prior to submitting an application for naturalization.  We encourage you to seek the advice of competent counsel in advance. -ra
*photo taken at a recent outdoor naturalization ceremony in Los Angeles, California