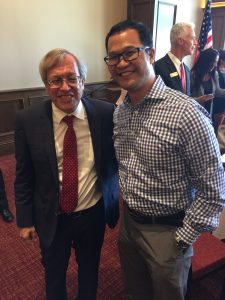 In my third year of law school, I had a small bit part in a talent show skit that parodied the lyrics of Madonna's "Like a Virgin."  The gist of the skit was that Professor Lucy Williams's Federal Courts course was the most difficult class on the schedule.  So brutally rigorous that it reduced the 2L and 3L students into feeling "like a first year."
Why this trip into Romben's law school past?  Although the course had a textbook, the not-so-secret-supplemental-hornbook-that-you-had-to-read-if-you-wanted-any-chance-of-passing was "Federal Jurisdiction" written by one Professor Erwin Chemerinsky . . . who is now Dean Chemerinsky at UC Berkeley School of Law.
Dean Chemerinsky recently wrote an op-ed praising now-former Attorney General Jefferson Sessions' upholding the rule of law by recusing himself from the Mueller investigation and allowing it to continue.