No Visa Policy for Philippine citizens?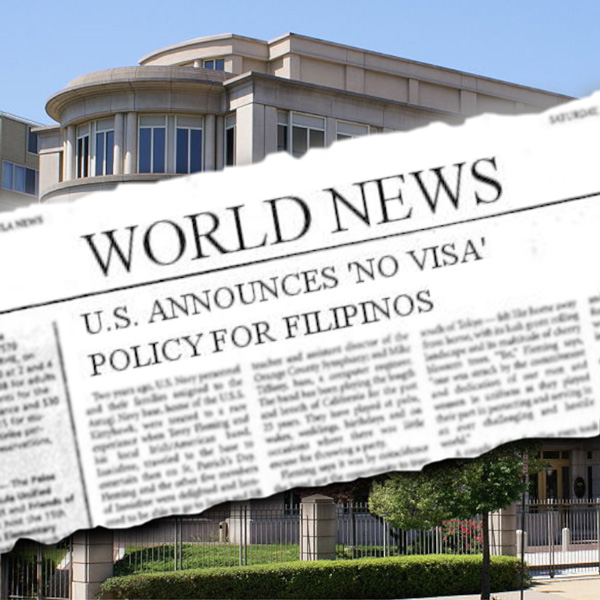 All that glitters is not gold
So don't believe what you've been told
— Orchestral Manoeuvres in the Dark
Last Tuesday as I was leaving court, I reached for my phone to find that it was blowing up  (as the kids say these days). Apparently, there was an internet article that stated that the Philippines had been added to the list of "visa waiver" countries and that Filipinos no longer needed to go to the U.S. Embassy prior to visiting the United States.  It was everywhere: my voicemails, my text messages, my Facebook feed. Even my mom called to ask about it!

My initial thought was "this is way too good to be true." If it were true, the folks who fly the MNL-LAX and MNL-SFO routes were about to become very busy.
So, I went to my office and started to do what lawyers call "due diligence" and what journalists call "fact-checking."  The article mentioned that the policy change had been announced by the U.S. State Department.  So I checked the official State Department website. Nothing about the Philippines.  So, I thought that maybe Manila beat headquarters to the punch and posted it on their site. No such luck there either.  I also checked the major news sites:  New York Times, CNN, Washington Post. Nothing, nada, wala! It was around this time that I started to have a sneaky suspicion that this was somebody's idea of a cruel joke.
Within a few hours, my suspicion had been confirmed. The website for the U.S. Embassy in Manila now states (in large text on a conspicuous portion of the website)
There has been no change in US visa policy for Philippine citizens wishing to travel to the United States. The Philippines has not been added to the list of countries eligible for participation in the Visa Waiver Program (VWP). If there are any changes regarding VWP-participant countries, the information will be reflected on this website.
Several last thoughts on this:
If it sounds too good to be true, it probably is. And if the story comes from site called "The Adobo Chronicles", you might want to double check their info.
As of the date of this post, there is no new immigration law yet.  So, don't fall for that trick either.
But at least the truth is not among The Adobo Chronicles because I, Richard Thornburg . . . I mean Romben Aquino, just happen to be here. To put his life and talent on the line for humanity and country.  And if you want to talk about immigration, the awesomeness of 80s synthpop, or Die Hard quotes, contact me.