BIG changes can be made with small tweaks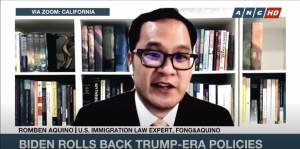 As the Biden administration takes the reins of the executive branch in Washington this week, immigration advocates have noted that immigration is one of its top priorities.   After the inauguration, Romben Aquino was asked to appear on ABS-CBN News Channel in the Philippines to discuss the Administration's plans.   Mr. Aquino noted that in his first week, President Biden:
rescinded the "Muslim travel ban";
implemented a 100-day pause on deportations while the Administration reviews enforcement policies; and
paused border wall construction (which Mexico never paid for).
Mr. Aquino also discussed the President's plans for the U.S. Citizenship Act of 2021.  In the bill, President Biden seeks to:
provide a pathway to citizenship that starts with temporary legal status before achieving lawful permanent resident status (a process which looks and sounds very similar to the Immigration Reform and Control Act of 1986, a/k/a the Reagan immigration bill);

 

eliminate the 3- and 10-year bars to re-entry;
clear out the employment-based visa backlogs;

 

reduce lengthy wait-times involving family-based visas and allow certain family members to reunite with their families inside the U.S. while waiting for the process to complete (a wait time that for some families overseas can be close to two decades); and
seek to recognize the humanity of immigrants by changing references from "alien" to "noncitizen" in the immigration laws.
However, the Administration is expected to run into heavy pushback from Republicans.  Rather than pushing through expansive, new laws, perhaps big changes can be made with very small tweaks to the existing immigration laws.
Current immigration law (INA § 249) allows for eligible individuals with good moral character who have resided inside the United States since January 1, 1972 to "register" for lawful permanent resident status.  A person seeking registry would file a Form I-485 application with USCIS, which would then assess the applicant's eligibility, conduct an interview at a local field office, and then issue a "green card" if approved.  After five years of being in lawful permanent resident status, that individual becomes eligible to seek U.S. citizenship.
But what if Congress changed that date to June 15, 2012?  That would mean that persons who have resided inside the United States since that date would now be eligible to seek lawful permanent residence.  And then, upon having received LPR status, they would be eligible to seek U.S. citizenship after five years (assuming, of course, that those individuals do not do anything that would make them ineligible for the benefit.) 
But why June 15, 2012?  That is the same date that young individuals who have been granted Deferred Action for Childhood Arrivals ("DACA") were required to be physically present in the United States.  With this simple change to the Registry date, a pathway to citizenship would be opened for all of "the Dreamers" — that uses the framework and process that already exists with USCIS. 
So, a tiny amendment to the current immigration law can make a big impact on the lives of millions of immigrants already living, working, and contributing to making America greater.  —ra