Immigrant Winners at the 2014 Oscars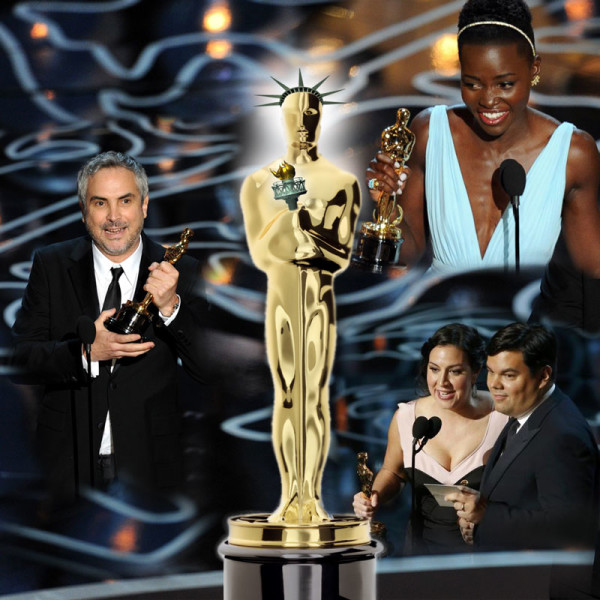 Immigrants are among the 86th Annual Academy Awards' winners.
I still can't help but chuckle every time I read something about the Travolta-izing of Idina Menzel's name at last week's Oscars telecast.

Over the years, like many persons from immigrant families, I've had my name mispronounced and misspelled in a number of amusing ways. (Robin? Ramen? My favorite is from the New York State Bar Association: "Dear Panber Aquino, Congratulations on passing the bar exam. Please send us money to join.") Luckily, there were a number of folks whose names were not mispronounced.
Like Lupita Nyong'o. Born in Mexico, raised in Kenya. Winner for Best Supporting Actress.
And how about Robert Lopez? Filipino-American. Winner for his work (with his wife Kristen Anderson-Lopez) on the best original song "Let It Go." The win was also Mr. Lopez's ticket into a very exclusive club: the EGOT family – a select group of artists who have won an Emmy, a Grammy, an Oscar and a Tony. Also, you gotta love this first line of the article: "The Philippines, never a nation to decline an opportunity to celebrate . . ."
And Alfonso Cuaron. Immigrant from Mexico. Best Director.
And then this guy whose name was not announced, but he got a lot of screen time. Edgar Martirosyan. Immigrant from Armenia, owner of a pizza franchise who occasionally delivers the pies himself.
By the way, "Adele Dazeem" — not an immigrant. Born in Queens, New York.
I can't help you get screen time during the Oscars, but I can help you immigrate to the United States.