Form N-400 Doubles In Size On May 4, 2014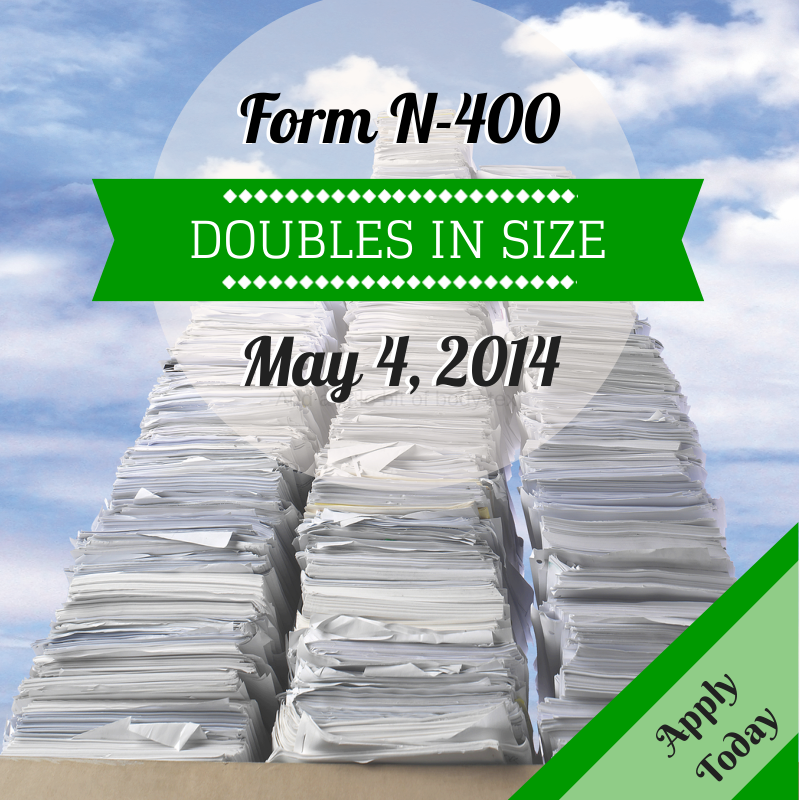 If you are planning to apply for citizenship, you may want to do so before May 4, 2014.
I have previously discussed the benefits of becoming a U.S. citizen in order to "save" one's children. I still believe that if you want to become a U.S. citizen, you should pursue it as soon as you are eligible. However, I occasionally come across potential clients who have been lawful permanent residents for a long time . . . and want to renew their green cards before the expiration date.

Perhaps this will be a call to action for those sitting on the fence. The Form N-400 is getting longer. Doubling in length, actually. Unfortunately, the form is not getting longer because USCIS is adding pretty pictures. They are asking more questions. A LOT MORE questions.
Naturalization (or the process of applying for U.S. citizenship) is the final step before a foreign national becomes a "full-fledged" American citizen. So, if USCIS wants to make the form longer and ask more questions, that is within their authority and prerogative.
However, if you want to apply to become a citizen and use the current 10-page form, it is still valid until May 4, 2014. To be safe, you should ensure that your application is received by USCIS on or before Friday, May 2, 2014. The eligibility requirements and government filing fees are not changing; just the form. You may, of course, fill out the N-400 on your own. But for those of you who would like the assistance of an attorney, feel free to contact me.