President Obama Orders An Immigration Overhaul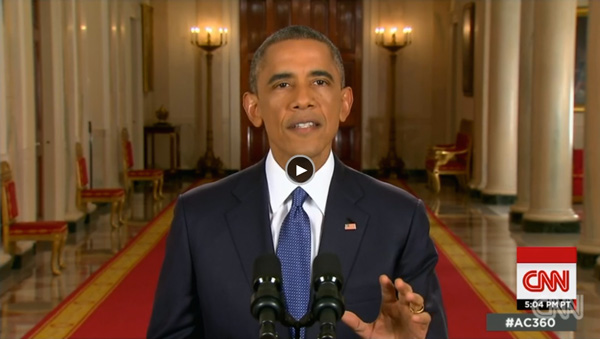 President Obama takes action to help keep families together
On Thursday evening, President Obama announced that he would issue executive actions in order to fix certain aspects of the immigration system. The executive orders are expected to affect up to 5 million undocumented immigrants inside the United States.

However, the President also stressed that the measures are temporary: they could be reversed by a future president, or rendered moot if Congress passes an immigration bill.
The reunification of families (and, by extension, the aversion to tearing families apart) is a major guiding principle of American immigration law. There are many mixed-status families inside the United States: families where the children may be United States citizens but the parents may be undocumented, or families where one parent is a United States citizen but the other parent has not been able to regularize his or her status. The President's executive actions will likely benefit many of these families.
The full list of the President's executive actions is listed on the Department of Homeland Security's website. However, let's take a closer look at a few of them:
Revise Removal Priorities
DHS will implement a new department-wide enforcement and removal policy that places top priority on national security threats, convicted felons, gang members, and illegal entrants apprehended at the border; the second-tier priority on those convicted of significant or multiple misdemeanors and those who are not apprehended at the border, but who entered or reentered this country unlawfully after January 1, 2014; and the third priority on those who are non-criminals but who have failed to abide by a final order of removal issued on or after January 1, 2014. Under this revised policy, those who entered illegally prior to January 1, 2014, who never disobeyed a prior order of removal, and were never convicted of a serious offense, will not be priorities for removal. This policy also provides clear guidance on the exercise of prosecutorial discretion.
In June 2011, DHS issued the "Morton memo" on prosecutorial discretion. (The memo was authored by the director of Immigration and Customs Enforcement, at that time John Morton.) The Morton memo described which cases were to be treated as "enforcement priorities" and which cases could be considered for "administrative closure." The President's executive action supersedes the June 2011 Morton Memo and describes new policies for the apprehension, detention, and deportation of non-US-citizens. This will affect individuals who are currently in Immigration Court proceedings.
Expand Deferred Action for Childhood Arrivals (DACA) Program
We will expand eligibility for DACA to encompass a broader class of children. DACA eligibility was limited to those who were under 31 years of age on June 15, 2012, who entered the U.S. before June 15, 2007, and who were under 16 years old when they entered. DACA eligibility will be expanded to cover all undocumented immigrants who entered the U.S. before the age of 16, and not just those born after June 15, 1981. We will also adjust the entry date from June 15, 2007 to January 1, 2010. The relief (including work authorization) will now last for three years rather than two.
When DACA was announced in 2012, persons over 31 years old were not eligible. The age limit is being removed.
Extend Deferred Action to Parents of U.S. Citizens and Lawful Permanent Residents
DHS will extend eligibility for deferred action to individuals who (i) are not removal priorities under our new policy, (ii) have been in this country at least 5 years, (iii) have children who on the date of this announcement are U.S. citizens or lawful permanent residents, and (iv) present no other factors that would make a grant of deferred action inappropriate. These individuals will be assessed for eligibility for deferred action on a case-by-case basis, and then be permitted to apply for work authorization, provided they pay a fee. Each individual will undergo a thorough background check of all relevant national security and criminal databases, including DHS and FBI databases. With work-authorization, these individuals will pay taxes and contribute to the economy.
Individuals who have US citizen OR lawful permanent resident children and who have lived inside the United States since before January 2010 are now eligible for "deferred action." Similar to DACA, successful applicants will be able to obtain a "work permit" valid for three years and will be shielded from deportation for that time period as well. USCIS has been tasked with implementing the application process and should begin accepting applications "no later than 180 days after the date of this announcement", or May 19, 2015. (So, it's theoretically possible that USCIS could begin accepting applications before that date.)
Expand Provisional Waivers to Spouses and Children of Lawful Permanent Residents
The provisional waiver program DHS announced in January 2013 for undocumented spouses and children of U.S. citizens will be expanded to include the spouses and children of lawful permanent residents, as well as the adult children of U.S. citizens and lawful permanent residents. At the same time, we will further clarify the "extreme hardship" standard that must be met to obtain the waiver.
Previously, the "stateside waiver" was only available to spouses of U.S. citizens. Now, the waiver will be available to spouses and adult children of LPRs and USCs.
A few closing thoughts
Within the next few months, we will see the President's executive actions implemented by ICE and USCIS. Although the eligibility criteria have been announced, the application forms are not yet available. Be wary of notarios and non-lawyers who may be seeking to capitalize on the excitement and eagerness of the immigrant community. If you would like to discuss whether you and your family may benefit from the President's new executive actions, I invite you to contact me.